softislab
31.7. - 28.8.2021

Pilot for a shared textile
laboratory
ahoy all creatives!
This is a place where you can explore textile making and soft materials with a wide range of established tools from knitting to weaving and beyond but also widen the perspective through workshops in soft robotics, natural dyes and senses.

Softislab functions as the first demo for a shared textile lab - a platform for future-oriented, curious and experimental textile development open for professionals and enthusiasts alike.
SOFT:
/ ˈsȯft /
adjective

: pleasing or agreeable to the senses

: bringing ease, comfort or quiet


: smooth or delicate in texture, grain or fiber


: based on negotiation, conciliation,
or flexibility rather than force,
threats or intaransingence
RADICAL:
rad· i· cal |ˈra-di-kəl
adjective

: very different from the usual or traditional: extreme

: favouring extreme changes in existing views, habits, conditions, or institutions

slang : EXCELLENT, COOL
(Merriam Webster online dictionary 2020)
programme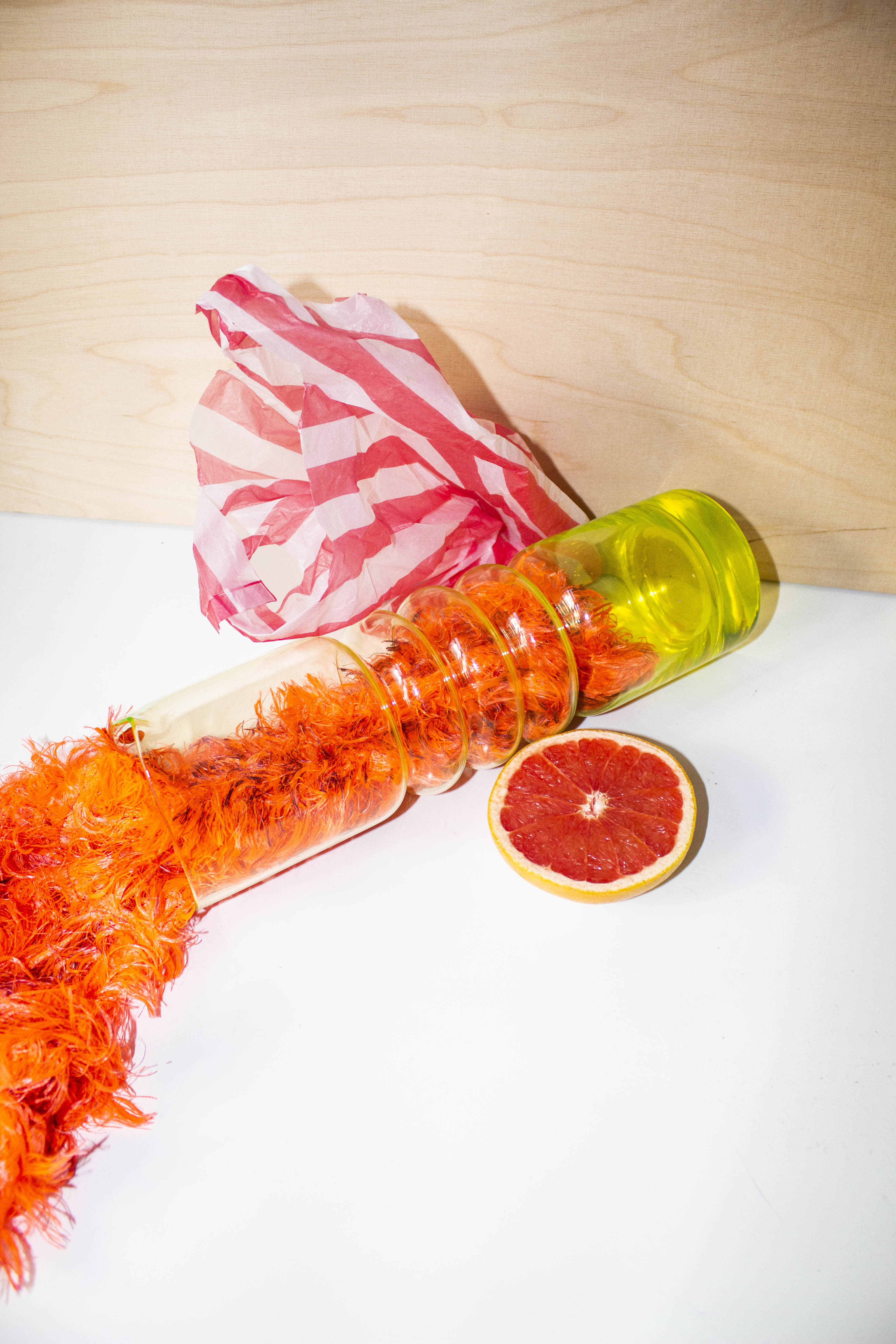 21th - 28th of August
MON-FRI 12:00 - 20:00
SAT 12:00 - 17:00
SUN 12:00 - 16:00
Exhibition:SOFT IS RADICAL.
The exhibition presents the processes and results of the residency artists, courses and workshops. During the exhibition, softislab will open its doors to everyone interested in textiles and welcomes visitors to explore different textile-making techniques with the machinery.

ADDRESS: Kalasatama Art Studio Building, Vanha Talvitie 9, 00580 Helsinki

FRI 20th of August
13:00 (livestream)
Keynote: Being Metamaterial
EJTECH: Judit Eszter Kárpáti & Esteban de la Torre

Formed by Judit Eszter Kárpáti and Esteban de la Torre, EJTECH [ˈeɪtɛk'] is an interdisciplinary artist duo working with hyperphysical interfaces, programmable matter, and augmented textiles as media to investigate sensorial and conceptual relationships between subject and object, aiming to rediscover networks of emerging structures and immanent causality within realist metamaterialism.

Their work has been presented in galleries, festivals and exhibitions all over the world.

EJTECH has created commissioned art pieces for cultural institutions and commercial brands such as DIOR, Blade Runner 2049, Material ConneXion. They regularly hold workshops and lectures on new media art and creative technology internationally.

https://ejtech.studio
LANGUAGE: ENGLISH
FRI 20th of August
14:30(livestream)
Panel discussion:Soft Thinking: Textiles at Disciplinary Intersections
MODERATED BY JULIA VALLE (DA in Design) PANELISTS:
Dr Varvara Guljajeva (Varvara & Mar studio) Ida Urmas (Seams Helsinki)
Kiko Chen & Sofia Guridi (Softislab residecy artist duo)

From the most basic woven structure, warp and weft collaborate for creating textiles. Maybe this vocation has lent textiles a natural ability to play an active role in collaborations. From fashion to technology, establishing relationships with other fields has always been intricate to textiles and provided the world with a series of innovative processes, materials, and products. But how does the field continue its path today? How do textiles and its thinking create better futures? From the perspective of relationships, in this discussion, we explore the topic through the voices of professionals that weave beyond textiles, creating new spaces for thinking with soft materials.

LANGUAGE: ENGLISH
SAT 31th July
SUN 1st of August 10:00 -17:00
Soft Synesthetic Synthesis
HOSTED BY EEVI RUTANEN

How are our senses connected to one another? How could we translate touch into sound?

The aim of this two-day workshop is to explore the sonification of touch by creating haptic textile instruments. Over the weekend, participants will learn how to design and construct simple electronic textile circuits using various conductive soft materials and the Arduino programming environment.

Applying their individual practices and skills, participants are encouraged to explore the possibilities of e-textiles in an experimental, engaging and collective setting. By the end of the workshop, we will have created a collaborative soft synthesiser, which entangles the senses and renders the immaterial tangible.

COURSE FEE: 30€
LANGUAGE: ENGLISH & FINNISH
TUE 3rd, 10th & 17th of August
16:30 - 20:00

See with hands – taste with nose – eat with eyes
HOSTED BY MERVI ANTILA, MIRA JÄRVINEN & MATILDA PALMU

Let your senses lead you to the magical world of textile making.

During this 3-day course, we ask you to have an open mind and trust your senses to guide you to work. What will happen if you let the sense of sight, touch or smell take over and lead?

As a working method, participants will use frame weaving to form a unique and personal artwork with different sensorial modalities.
The results of the workshop will be part of the Softislab exhibition, after which the participants can collect them.
COURSE FEE: 30€
LANGUAGE: FINNISH (ENGLISH)
SAT 14th of August
10:00 - 14:00 & 15:00 - 19:00

Colour Kitchen
HOSTED BY HAVINA JÄNTTI & MIRA JÄRVINEN

In the Colour kitchen familiar foodstuffs and by-products are transformed into delicious colours!

The workshop introduces the basics of natural textile dyeing by using ingredients familiar from the pantry.

Participants will dye a textile item using shibori-technique. The results of the workshop will be part of the Softislab exhibition, after which the participants can collect them.

NO PREVIOUS EXPERIENCE NEEDED!
COURSE FEE: 30€
LANGUAGE: FINNISH (ENGLISH)
residency artists '21
Softislab Artist Residency 2.8.-28.8.2021 - SOFT IS RADICAL



Earlier this year, we announced the first edition of the Softislab short-term residency. The residency includes the use of the studio space, its traditional textile-making tools, a curated collection of soft materials, and additional opportunities to utilize our partners' workshop spaces and machinery.

In the open call targeted to all creators working with soft or soft-related materials, we asked people to dream big with us and tell us what the title sentence SOFT IS RADICAL sparks in them.

The residency artists were selected by the jury:

Eevi Rutanen (an artist, creative technologist and educator)
Noora Yau (designer and researcher)
Kustaa Saksi (multidisciplinary artist and surface designer)
+ 2 representatives of the Softislab initiative

In the first residency, we have two individuals and one group of creators. Since the residency period is short-term, the emphasis is on creative thinking and process rather than finished projects. The outcomes will be presented in the exhibition finalising the pilot event.

Introductions of the residency artists and the project concepts are found below.


Jérémy Gaudibert develops an interdisciplinary practice nurtured by interests in both design and dance. He holds a BA in textile and material design from ESAA Duperré and a MA in Industrial design from ENSCI Les Ateliers, both in Paris.

Besides co-leading design studio JaM (@designstudiojam) Jérémy creatively approaches the issues of material and labour in production and consumption cycles.

Jérémy was part of the 2019 HIAP Design residency with the project and performance Kahvitauko, a study on Finnish coffee culture.
Project concept
The project is based on a material-making process using pine (mänty)'s bark collected from a log house construction site.

The material was the result of a serendipitous research that started during the pandemic outburst in 2020. It was entirely born out of these conditions and the specifics of log construction.

Within the residency framework, I aim to explore technically and conceptually the weaving-beating process inspired by Amate's Mexican paper craft and to find how to design with it.
Kiko Chen is a cross-disciplinary designer and new media artist made in China and based in Helsinki. Working at the intersection of design, art and emerging technologies, her work strives to explore new possibilities of interactive media,and asks questions about the societal, ethical, environmental and political issues it brings along. She is currently doing her Master of Arts degree in New Media Design and Production at Aalto University.
Chen You-Chia is a Helsinki-based multidisciplinary designer from Taiwan. Her works include experimental textile, structure research and object design, focusing on the relationship between colour, material and form.

In her practice, she explores the movements of forms between two-dimension to three-dimension through hands-on model making. During the process, she constantly seeks to expand the possibilities of materials and capture ephemeral beauties.




Project concept
The sense of softness is precept through the interaction between the touch and the touched. In this process, the soft objects embrace, absorb and reflect the forces from the surrounded world.

Inspired by the movement of soft materials/ objects, Dancing Citizens aims to explore the forming and kinetic ability in weaving, reform the idea of "soft" and turn it into kinetic installations. This project integrates the geometrical study and multi-layer weaving technique to explore the kinetic movement of soft objects from one form to another.
Sofía Guridi is a Latin-american designer and researcher,focus on the intersection of textiles, interaction design, electronics, crafts and material exploration. Her work goes from
experimental discoveries, educational projects and applied research for product development. Her main drives are the exciting new possibilities of communication and expression enabled by soft interfaces and the connection with the human body. She is currently doing her Master of Arts in Contemporary Design, and working as research assistant at Aalto University.
Project concept
Considering the topic of "Soft is Radical", we ask ourselves about the role of textiles in the context of social movements and rebellion. More specifically, we focus on the digital censorship undergoing by governments all around the world. For example, lately a full internet black out in Cali, Colombia,and the consistent internet censorship upon political topics in China. We argue the power of textiles to spread
messages in secret, coded ways.

As an experimental experience, we expect to develop samples and let the audience of th exhibition discover them using their sense of sight as well as touch, connecting the body with the material. Here, the textures and structures will affect the body movements, in an interconnected relationship between the senses and the agency of the matter. Traditional machines, digital hardware and software, and smart materials will support us to create dynamic fading patterns, touch sensors, movements and generative designs.

Can we trick our eyes, cameras, police, algorithms so that we can express more freely in the context of social movements?